Soudal Soudagum Hydro 1kg Waterproofing Kit
Revolutionary waterproofing membrane based on hybrid polymer technology, with superb adhesion to most substrates; excellent resistance to UV, weather, and chemicals; and absolutely water-proof. 1 kg Repair Kit includes all the items you need for convenient waterproofing repair jobs
Based on Soudal's SMX Hybrid Polymer Technology
Low viscosity – easy to apply with brush
Solvent-free, isocyanate-free
Good crack-bridging
Paintable
Superb UV and weather resistance
Packaging
1 kg repair kit – includes 2 satchets of Soudagum Hydro (500 g each), reinforcing fleece (15 x 30 cm), brush, gloves, and mixing tub
Also available in 5 kg buckets
Colour
Grey
2 satchets of Soudagum Hydro (500 g each)
Reinforcing fleece (15 x 30 cm)
Brush
Gloves
Mixing tub
Ready to use – one component
Low viscosity
Solvent-free
Isocyanate-free
Excellent workability, can be applied in 2 layers
Water-vapor permeable
Good temperature resistance
Rain resistant – 2 hours after application
Good crack-bridging
Excellent resistance to chemicals
Good UV and weather resistance
Can be overpainted
Substrates: Excellent adhesion on many substrates such as concrete, screed, glass, ceramics, tiles and wood; also metals such as aluminum, steel, zinc
and copper.
Nature: Surfaces must be firm, loadbearing and free of dust and grease.
Surface preparation: Remove all traces of loose existing coating material. Soudagum Hydro can be used without primer on moist substrates but not in
the presence of stagnant water.
We recommend a preliminary compatibility test.
Waterproofing of skylights, dome lights, pipe collars, wall breakthroughs etc.
Waterproofing of cracks in roofs and walls
Waterproofing of indoor and outdoor joints
Waterproof layer under concrete roofs, terrain tiles and wooden terraces
Repair of metal and plastic roof gutters and drainage
Repair and renovation of rooftops (pans, slats, zinc), roof edges and chimney flashings
Treatment of lead and zinc corrosion
For protection and renovation of wood constructions such as verandas, terraces, garden poles, underground garden wood etc.
Sealing of flower boxes and the outside of fountains and water ornaments
Sealing of the outside underground foundations, cellars and masonry
Short term emergency repair for leaks, even during rain
Shelf life is 12 months in unopened original packaging.
Keep in unopened packaging in a cool and dry storage place at temperatures between 5 to 25 degrees Celsius
Storage beyond the date specified on the label does not necessarily mean that the product is no longer usable. In that case, the properties required for the intended use must be checked.
Soudagum Hydro is also available in 5 kg buckets.
Not recommended for application which are permanently immersed in water.
Soudagum Hydro can be reinforced with non-woven fleece.
For more application methods and instructions, please refer to the TDS.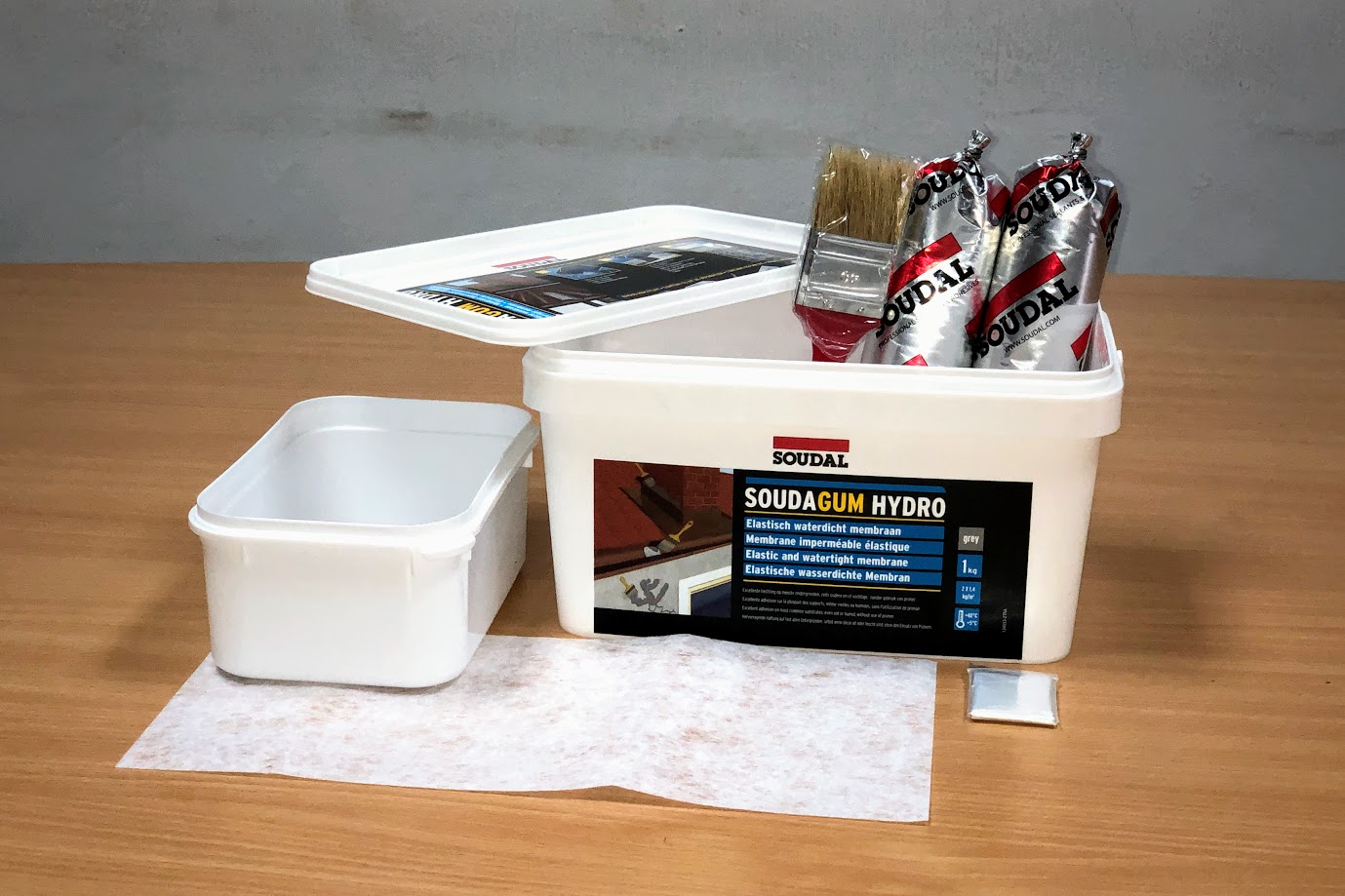 1
2 sachets of Soudagum Hydro Hybrid Polymer Waterproofing Membrane (500 g each)
2
Non-woven fleece for reinforcement of waterproofing area (15 x 30 cm)
5
Extra tub for pouring and mixing